LONG BEACH ISLAND-SHIP BOTTOM
The Perfect Family Vacation Spot!!!
Two oceanfront units in a two family house right @ beach entrance with this view!
Lots of good restaurants in a short walk. Great time saver; closest place to Parkway on LBI,
Everything you need in walking distance-park once, never get in car again until you leave if you wish.
Rates compare favorably to all LBI Oceanfronts.
Enhanced cleaning and sanitation procedures- rigorous wipedowns between all occupancies,
fresh mattress & pillow protectors at no charge @ every new occupancy.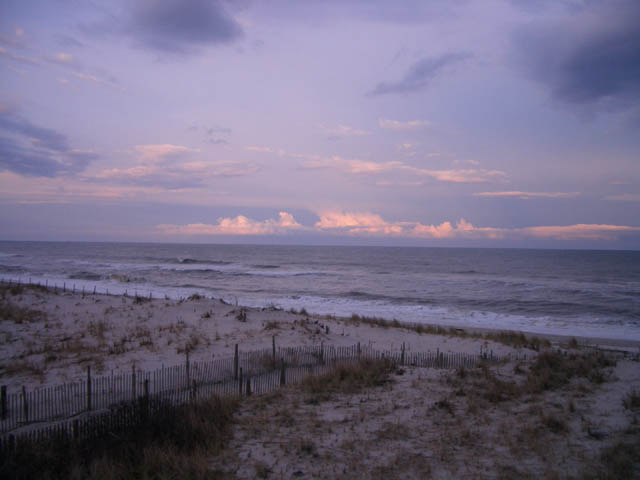 The above is the view from the upper floor deck
Two units (upstairs and downstairs, can be rented together or separate) in our two-family house. Rent includes 6 beach tags per unit in summer at no extra cost!
Quiet beaches, great all-year open restaurants nearby make this a perfect off-season rental during which you can sit by the fireplace, watch the beach & ocean!
All brand new upgraded bedroom furniture, both upstairs and downstairs and freshly painted interiors and exterior trim. All Brand new furniture in Living Rooms.
Both units fully equipped with their own wireless access -- stay connected on vacation- no charge for usage!! No sharing with other occupant.
* Both units (upstairs & downstairs) have: Two bedrooms (MB-Queen, 2nd-2 twins), 1.5 baths, living room has queen sleeper couch, outside shower,
kitchen with toaster oven, microwave, dishwasher; heat, air conditioning in each room, fireplace, 2 TVs with full cable service including premium channels,
portable stereo, and gas barbecue grill***.
* Sleeps six comfortably: two in each bedroom plus pullout couch in living room (queen size).
* Community washer***/dryer (no charge- no coins needed!), beach badges, beach chairs & umbrella, beach toys, boards @ no extra cost!
* Two or three private parking spaces, depending on car size, for each unit.
* Anything you need is already here (dishes, pots/pans, flatware, pillows, blankets). Just bring personal items- bed sheets, pillow cases, towels.
*
Best spot in Ship Bottom! Walk out of house right onto the beach. Great privacy & serenity while close to services and supplies!
* Great gas-saver, no need to drive to stores for supplies as in most LBI rentals! Walk to food stores, drug store, restaurants, convenience items, and shops.
* Make the most of your vacation time -park once, enjoy your visit without driving!

* Sorry, no pets, including "emotional support" animals, and no smoking (including E-cigarettes or vapes) permitted on the premises

* Rates for partial off-season weeks, weekends available-please inquire

* Convenient payment process- deposits, rental payment by personal check or VENMO.
No annoying & costly certified check process as many LBI rentals demand.
* Simple, renter-friendly, one page lease unlike cumbersome & renter-unfriendly lease forms used by brokers

* Discounted rates available for renting whole house -up & down- in same time frame
*** Note: washer/dryer and barbecue grill unavailable in cold weather season
Location Map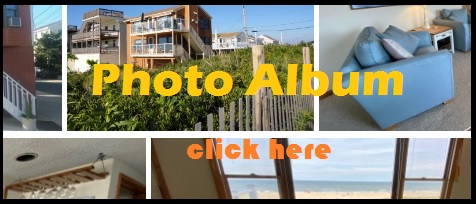 Visitor #